Electrical Services in Wayne, NJ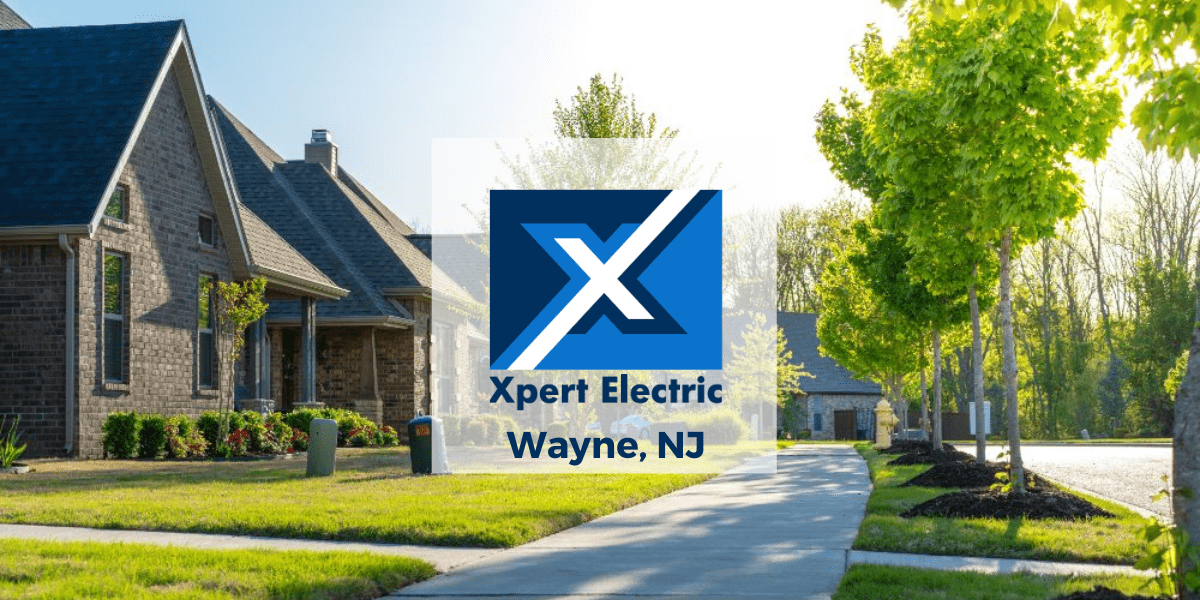 Without electricity, not much is going to work inside your home. From essential appliances to chargers for electronic devices, you depend on electricity every day. When something does go wrong, it can be an inconvenience and a safety hazard. If you notice any electrical issues in your home, or you're ready to upgrade, we can send an electrician from Xpert Electric right away.
Don't try to handle electrical issues on your own or put them off to deal with another day. If you need an electrician in Wayne, NJ, call (201) 393-2420 or contact us online. 
Our Electrical Services 
We want to make sure you have working electricity throughout your home and that you're safe from potential risks of electrical issues. Our team can handle any electrical services you may need, from installations to repairs, and will always arrive as quickly as possible. Along with our electrical services, we can also help with electrical inspections and any other help you may need to keep the system in great shape. 
Electrical Installation Services in Wayne
An electrical installation may be needed if you'd like to add something new to your home or if you're ready for an upgrade. When you need any electrical installation, let us know, and we'll make sure it's done properly. 
Lighting Installation
If you don't have enough lighting in a room in your home, we can help with a lighting installation in Wayne. We can install many different types of lights in your home to help you illuminate your space.
Outlet & Switch Installation
New outlets or switches may be needed if you're renovating your home or if you don't seem to have enough places to plug in items that need to charge. Call our team if you need help with an electrical outlet and switch installation in Wayne.
EV Charger Installation
Electronic vehicles can save you money because you don't need to buy gas, but they can take forever to charge with a standard outlet. Instead, an EV charger installation is recommended. We can help you choose the right one and do the EV charger installation in Wayne for you.
Ceiling Fan Installation
If you don't have a ceiling fan in a room, you may notice it's not as comfortable as other areas of the home. Whether you're in need of a new fan or you'd like to upgrade an existing one, let us help with the ceiling fan installation in Wayne.
Electrical Repair Services in Wayne
Any electrical issues in the house can be inconvenient and dangerous, but we can help with the electrical repair. This can reduce the risk of electrical fires or of someone in the home being shocked. Some of the different types of electrical repair services we provide in Wayne include the following. 
Wiring Repair
In older homes, wiring and rewiring may be needed to upgrade older wiring to new to prevent the potential for issues. We can also help with wiring and rewiring if many of the wires in your home are having issues and provide wiring repair in Wayne for smaller issues. 
Electrical Panel Repair
In modern homes, electrical panels are intended to help detect anything that goes wrong so that the electricity to that area can be cut off. When there are issues with electrical panels, they won't work right, so it's important to call for electrical panel repair in Wayne.
Outlet & Switch Repair
Outlets and switches can go bad and stop working. If you try to turn on the lights and nothing happens, it might be the switch that is broken. Call us for any electrical outlet and switch repair in Wayne. 
Additional Electrical Services in Wayne
Electrical Safety Inspections

Electrical Updates & Upgrades

Whole-Home Generator Installation

Smoke Detector Installation

Arc Fault Breaker Services
Need Electrical Services in Wayne? Call Xpert Electric Today!
Any electrical issues in your home can have risks, so it's important to have them fixed fast. Even something that seems insignificant, like an outlet that has stopped working, can be a risk, so it's better to call for help today. Along with repairs, we can help with installations or do electrical inspections to make sure your home's electricity is working correctly and safely. If you need any help with the electricity in your home, Xpert Electric is available to assist you.
If you have any electrical issues, it's important to have a professional address them as soon as possible. For fast help from an expert electrician in Wayne, NJ, fill out our online form or call us at (201) 393-2420 today.