Electrician in Cliffside Park, NJ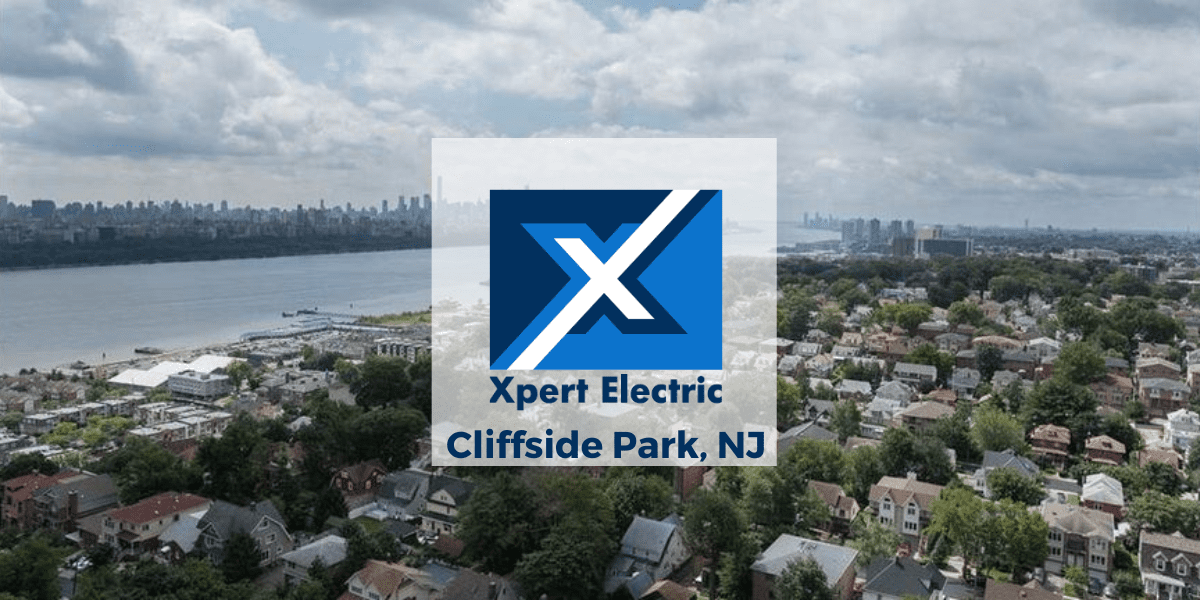 Your search for a dependable electrician in Cliffside Park, NJ, ends with Xpert Electric. As seasoned professionals, we have the knowledge, skills, and experience to tackle a broad range of electrical challenges. Our objective is to become your go-to resource for all your electrical needs, consistently delivering services that stand head and shoulders above the rest.
Our commitment to our clients extends far beyond merely meeting expectations. At Xpert Electric, our mission is to exceed your expectations, setting new standards in the electrical services sector. We're not just here to ensure that your electrical system is up and running; we're here to ensure it's safe, efficient, and precisely tailored to accommodate your specific needs and lifestyle.
Don't settle for less when it comes to your electrical needs. Trust the top electrician in Cliffside Park, NJ, to keep your systems in optimal condition. Contact us online or by phone at (201) 314-8688 to schedule a service!
Our Electrical Services
We offer an expansive selection of electrical services in Cliffside Park, NJ, encompassing everything from detailed electrical inspections to extensive installations. Our seasoned electricians are adept at managing both small-scale repairs and large-scale installations. Quality is the cornerstone of our operations, which is why we focus on delivering meticulous, detail-oriented work.
Electrical Installation Services in Cliffside Park, NJ
Whether you're building a new home or upgrading an existing property, our electrical installation services, including wiring and rewiring in Cliffside Park, NJ, have you covered. We handle everything from wiring and rewiring to the installation of outlets, switches, and lighting fixtures. Trust us to deliver safe, efficient, and compliant installations every time.
Lighting Installation
Brighten your Cliffside Park, NJ home or business with our professional lighting installation services. Whether you need indoor ambient lighting or outdoor security lights, we work with you to create a lighting plan that's both practical and aesthetically pleasing. Illuminate your space the right way with Xpert Electric.
Outlet & Switch Installation
Never struggle with faulty outlets and switches again. We provide top-notch outlet and switch installation services in Cliffside Park. Whether you're renovating your home or setting up a new office, we will ensure you have power exactly where you need it.
EV Charger Installation
Embrace the future of transportation with Xpert Electric. Our experts offer EV charger installation services in Cliffside Park, ensuring you can easily power your electric vehicle at home. We keep up with the latest technology trends, providing you with a seamless and efficient charging experience.
Ceiling Fan Installation
Stay comfortable all year round with our ceiling fan installation services in Cliffside Park. We ensure your ceiling fans are installed securely and correctly, delivering optimal performance and cooling efficiency. Trust us to enhance your indoor comfort with a professionally installed ceiling fan.
Electrical Repair Services in Cliffside Park
Don't let electrical issues disrupt your daily routine. We offer comprehensive electrical repair and inspection services in Cliffside Park, NJ. From fixing faulty wiring to repairing damaged electrical panels and conducting detailed electrical inspections, we are your reliable partner for all types of electrical services.
Wiring Repair
For all your wiring repair needs in Cliffside Park, look no further than Xpert Electric. Our skilled electricians can swiftly diagnose and repair any wiring issue, reducing potential hazards and ensuring your electrical system runs smoothly and safely.
Electrical Panel Repair
We specialize in electrical panel repair in Cliffside Park. Our certified electricians can efficiently diagnose and fix issues with your electrical panel, ensuring it safely distributes power throughout your property.
Outlet & Switch Repair
Struggling with problematic outlets and switches? We offer effective outlet and switch repair services in Cliffside Park. Let us restore the convenience of your electrical system and ensure the safe operation of your outlets and switches.
Additional Electrical Services in Cliffside Park
Electrical Safety Inspections

Whole-House Surge Protection

Generator Installation and Repair

Smoke/CO Detector Installation

Arc Fault Breaker Services
Need Electrical Services in Cliffside Park? Call Xpert Electric Today!
When it comes to electrical services in Cliffside Park, NJ, Xpert Electric is the company you can trust. We are dedicated to providing top-notch electrical services, backed by years of experience and a team of certified electricians. All of our work is centered on quality, safety, and customer satisfaction.
Are you ready to experience top-quality electrical services? We invite you to contact us or call (201) 314-8688 at your earliest convenience to discuss your needs. Get in touch with Xpert Electric, your reliable electrician in Cliffside Park, NJ!