Electrician in Edgewater, NJ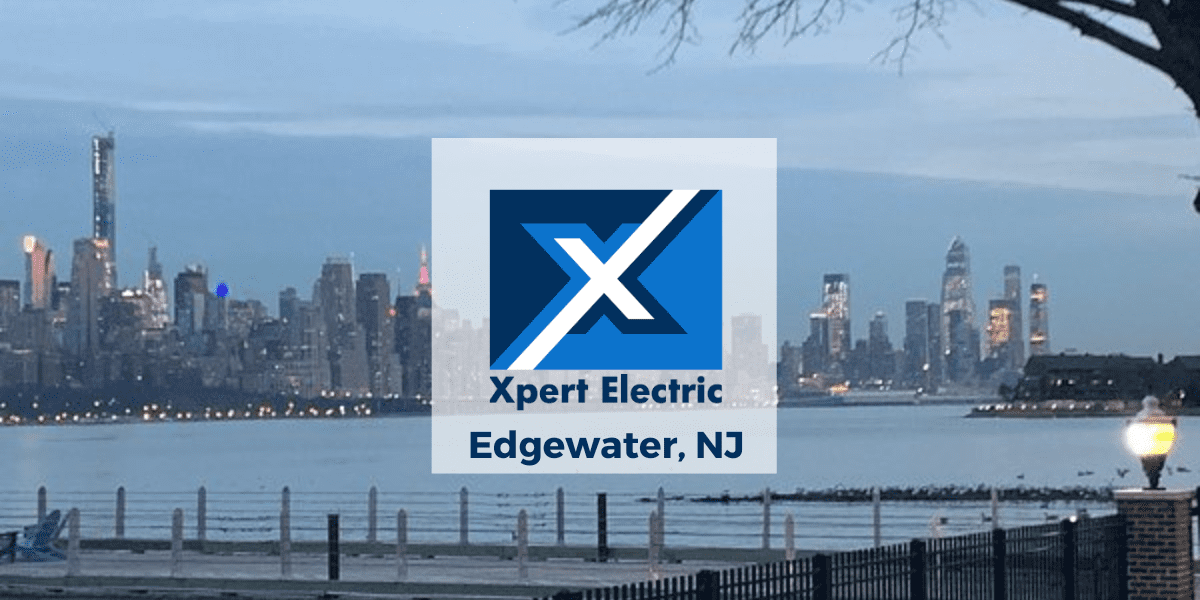 Looking for an electrician in Edgewater, NJ? Xpert Electric stands out with our strong commitment to excellence. We provide comprehensive electrical services, tackling everything from minor repairs to major installations with unparalleled precision and dedication. Trust us to keep your electrical systems up and running, safely and efficiently.
Ready to experience the best electrical services in town? Call Xpert Electric, your trusted Electrician in Edgewater, NJ. Our team is on standby to handle all your electrical needs. Contact us or call (201) 314-8688 today and let us brighten up your day!
Our Electrical Services
We offer a comprehensive suite of electrical services designed to ensure your home or business remains safe and functional. Our expert electricians, armed with the latest technology, perform everything from minor fixes to electrical inspections and major electrical installations. No task is too big or small for us.
Electrical Installation Services in Edgewater, NJ
For all your electrical installation needs in Edgewater, NJ, turn to the experts at Xpert Electric. Our skilled technicians excel in a range of electrical installations, including new lighting systems, wiring and rewiring existing circuits, and fitting electric vehicle (EV) chargers. We ensure all installations meet local code requirements and are safe for you and your family.
Lighting Installation
Lighting can make or break the ambience of a space. We specialize in lighting installation in Edgewater, NJ. Whether it's adding a chic pendant light to your dining area or installing practical and efficient LED lighting in your office, we have the expertise to transform your spaces with perfect lighting.
Outlet & Switch Installation
Your electrical outlets and switches form the backbone of your home's electrical system. Trust us for secure and efficient installation of outlets and switches in Edgewater. From regular outlets and GFCI outlets to dimmer switches, we'll get them all set up safely and correctly — giving you peace of mind while you run your appliances or adjust your lighting.
EV Charger Installation
Looking to join the electric vehicle revolution? For reliable EV Charger installation in Edgewater, choose Xpert Electric. Our experienced team is familiar with a wide range of charger models and can ensure your home charging station is installed safely and conveniently. Don't leave your EV charger installation to chance; trust the experts at Xpert Electric.
Ceiling Fan Installation
We understand that a ceiling fan is more than just an appliance — it's a statement piece that can drastically enhance your home's comfort and decor. We offer professional ceiling fan installation in Edgewater. Our electricians will make sure that your new fan is securely mounted, correctly wired, and functioning properly, ensuring your comfort in style.
Electrical Repair Services in Edgewater
Faulty wiring? Circuit breaker issues? Or just a malfunctioning switch? No matter the issue, Xpert Electric has got you covered. We provide unparalleled electrical repair services in Edgewater, NJ. Our electricians are equipped with the tools and expertise to diagnose and fix any electrical problem, ensuring your home or business is safe and functional.
Wiring Repair
Wiring issues can be more than just annoying — they can be dangerous. That's why Xpert Electric offers top-notch wiring repair in Edgewater. Our team of expert electricians will thoroughly inspect your wiring, identify any faults, and perform necessary repairs or replacements to restore your home's electrical safety and functionality.
Electrical Panel Repair
Your electrical panels are the heart of your electrical system, and when they malfunction, they can lead to serious issues. We offer top-of-the-line electrical panel repair in Edgewater. Whether you're dealing with circuit breaker issues or an outdated panel, our expert electricians will ensure your electrical system is up-to-date and functioning at its best.
Outlet & Switch Repair
Maintain the smooth functioning of your home's electrical system with our top-notch outlet and switch repair services in Edgewater. Our skilled electricians can handle everything from simple switch repairs to complex outlet replacements, ensuring your electrical system operates smoothly.
Additional Electrical Services in Edgewater
Besides our standard services, we also offer an array of additional electrical services in Edgewater to cater to your every need. This includes indoor and outdoor lighting, electrical safety inspections, electrical updates and upgrades, whole-house surge protection, whole-home generator installation, smoke detector installation, and arc fault breaker services. We're your one-stop shop for all your electrical needs!
Need Electrical Services in Edgewater, NJ? Call Xpert Electric Today!
Call Xpert Electric when you need reliable electrical services done right in Edgewater, NJ. Our dedication to superior service and customer satisfaction makes us the preferred choice in town. So whether you need a simple repair, a new installation, or a complete electrical upgrade, you can trust us to get the job done right.
Contact us at Xpert Electric today, your premier Electrician in Edgewater, NJ. Our team is ready to assist you with all your electrical needs. Call us at (201) 314-8688 now to schedule your service!